Last month was my one year anniversary with ClearEdge. I had the opportunity to drive our company Tesla for one day… and I passed it by because I was crazy-busy working on a proposal.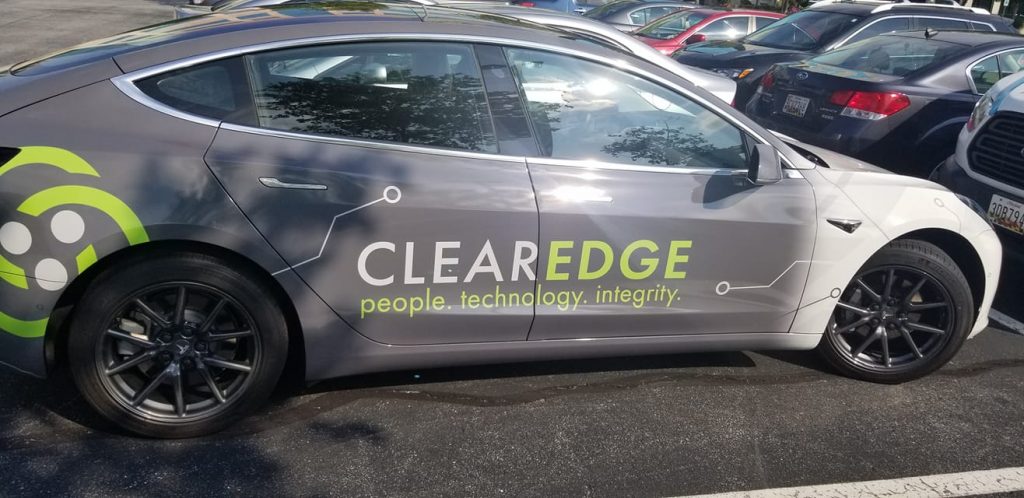 My chance came around earlier this month again, and I passed it by.. this time, I'd managed to lose my wallet and license while driving my motorcycle. Since I didn't have a license to present for insurance purposes, I had to let my chance slide by.
This week, though – well, this week I had my license AND a new promotion to a director-level position. I didn't let it pass me by. That Tesla and I drove to all the happening places: church for VBS, the Chic-Fil-A drive-through where my daughter was working, breakfast with my hubby for our anniversary (21!) AND the Bruster's ice cream stand. Because the new cyber technical director needs to go out in style!
So, Tesla uniqueness… electric car, ridiculously good pickup : 0-60 in < 5 seconds. SO comfy inside.. Streaming music. Quiet ride. App that lets you make your passengers' seats make fart noises. Automatic lights and windshield wipers. Self-driving.
Self-driving: As a parent who relatively recently had to ride with a new teenage driver, I have to confess feeling that same panic when auto-steering was on. As a software engineer, I never want to think about computers being in control. Watching Tesla think that the car next to me was shaking and pivoting 30 degrees back and forth into my lane did not give me confidence as I rode past a guy walking along the side of the road. And auto-steering did mean auto-braking on the highway as cars ahead of me slowed; it did not mean auto-braking at the red light in my neighborhood. Thankfully, I was watching and testing for that…
My twelve year old is convinced we should buy one. My frugalness suggests I'll pass. That said, if ClearEdge were to pull my name from the hat in September as the winner, I'd be happy to use the fart app all the way down the highway…