I've spent the last few nights searching YouTube and Pinterest for designs for a wolf balloon animal. Thursday, Clementine is doing a Blue and Gold dinner, and while I had a tiger and bear design, I hadn't found a wolf that worked for me. Meaning, I found _great_ wolves that were beyond the time and skill level I can use in a room filled with 25-40 kids. Plus, I wanted the visual wow factor of the wolf to be in line with that of the bear and the tiger.
Several nights spent looking, trying, even doing some attempts at designing on my own. Lots of balloon detritus, no wolf.
Skipping to the good part: I present to you – my wolf!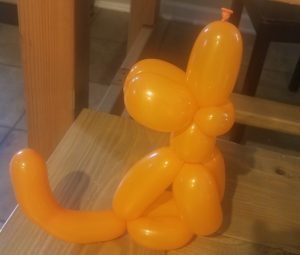 Single balloon design, imagine him in grey…    Notice the lower jaw forcing his head up in a howl, and then the tripod body.
Really happy with how he turned out…  now to just practice him 10 or 15 more times to make sure he consistently turns out well.  The cost of a balloon or two per kid isn't expensive, but for me there are always a whole lot of balloons left around the house as I work to get ready for an event.