Saturday of a 3-day weekend…  We thought we were sneaking to the dealership to look at a bike and then head to the Ren Fest.  Instead, brought home a different bike than the one I went in to look at.  Meet my 2012 Honda Shadow…  She doesn't have a name yet, but she's definitely a she.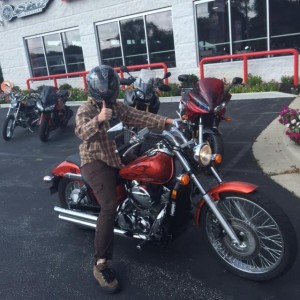 Now, this picture shows me confidently holding up a thumb for the sales guy to take a picture as I drive her off the lot.  That happened, yes, but the drive was only as far as the next door parking lot.  I'm not brave enough to take her out on the highway yet.  Later in the day, my brother-in-law was kind enough to come back with me and drive it home.
Since this weekend was a long weekend, I got a bit more time to go play..  Sunday afternoon and Monday evening both had me tooling around the local high school parking lot, seeing if I could put her through her paces.  As I remember from the class, right-hand turns are harder for me for some reason.  I've stalled out at several stop signs, and the U-turn is still a hit-or-miss endeavor.  But that's what practice is for.  Since I need to make a left-hand turn out of the high school to get home, and that light's sensor doesn't register that I'm sitting there, I've had to drive a bit further on the roads in my town that I'd otherwise anticipated.  Mild panic when I need to stop at the bottom of a hill and keep my 400+ lb girl from nosing out in traffic while avoiding stalling her so I can make the jump across the lanes to make the left..
I did let my hubby jump on the back of the bike this evening, just long enough for a loop around the school parking lot.  We drove all of 15 miles per hour – haven't asked him yet if his heart's stopped pounding….